Beautiful Scenery:
Rugged mountains, sparkling lakes and ponds, waterfalls, crystal clear streams, Androscoggin River valley, gorgeous views everywhere you turn.
(photo by Carol Savage)

Fabulous Locations:
Historic covered bridges, churches and an 1800's meetinghouse, a modern castle "in the sky", grand resort hotels, traditional New England inns, historic homes, and more...
(photo by Carol Savage)

4-Season Paradise:
Downhill skiing, x-c skiing, snowboarding, dogsledding, hiking, swimming, boating, canoeing, biking, trekking, camping, golfing, wildlife watching, touring, National Forest, State Park, Appalachian Trail and much more!
(photo by Andree Kehn)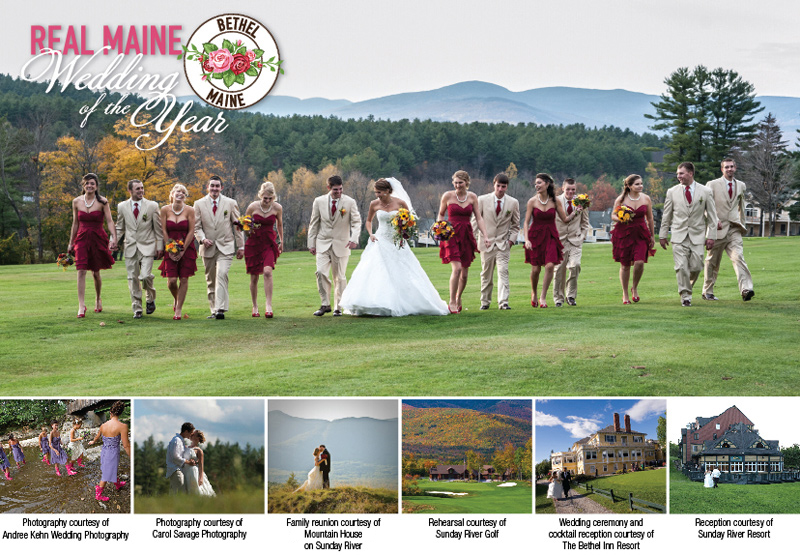 2014 Real Maine Weddings Bethel Wedding of the Year Contest! One lucky couple will win a dream wedding in Bethel, Maine worth $100,000—and your votes will help them win! We've asked each couple to create a two-minute video, telling us what Bethel means to them and why they want to be married there. Please watch the video submissions and vote for your favorite couples. The voting will end on March 7, 2014 at midnight. Three finalists will be chosen on March 8 to compete in the final round of voting, which will take place from March 15-22, 2014.
Click for more info.